SyncBackPro 7.6.64.0 + Portable 多語言中文-文件備份及同步程序
SyncBackPro是一個先進的文件備份及同步程序。它可用於在硬盤、可重寫光盤(含藍光碟)、雲備份服務器(支持亞馬遜S3、微軟Azure)、U盤和閃存卡、FTP及安全FTP服務器、ZIP壓縮文件(支持Zip64壓縮及256位AES加密)、電子郵件服務器和網絡共享文件夾之間同步文件。 程序使用簡單,但為高級用戶提供大量配置選項, 甚至可在同步過程中執行腳本程序。 SyncBackPro是屢獲殊榮的同步程序——SyncBackSE的增強版本。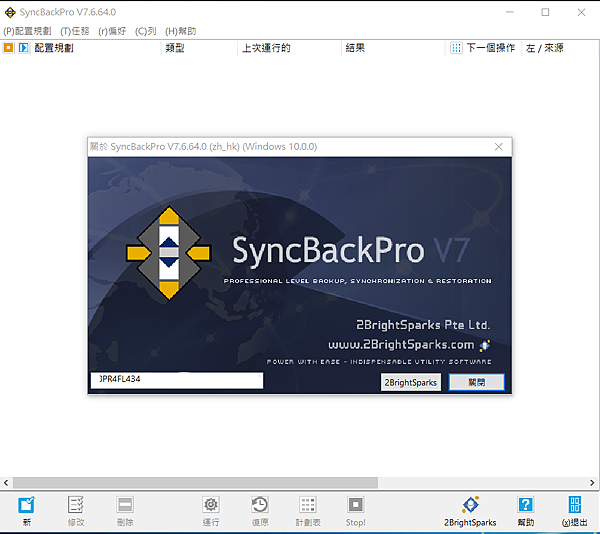 SyncBackPro有一個強大的內置FTP引擎可以對任何FTP站點進行備份。它還提供了AES 256位加密以增強軟件使用的安全性。 SyncBackPro自帶的自動調度,自動備份作業。 SyncBackPro可備份到CD/DVD或者其它設備和驅動器,支持電子郵件的備份,不管是SMTP,POP3或IMAP4。 SyncBackPro支持腳本作業,所以你可以根據實際情況用你自己自定義的腳本來配置程序。程序支持壓縮,可以方便減少備份文件大小,減少空間佔用。
SyncBackPro, the professional's tool to backup, synchronize, and restore data files. SyncBackPro for Windows is used by individuals, small businesses, and mission critical organizations throughout the world including law enforcement agencies, hospitals, and government departments.
Install SyncBackPro on a Windows computer and backup your data across multiple operating systems using SyncBack Touch (licensed separately). SyncBack Touch works with Windows, macOS (Apple), and Android (Mobile phones and Devices).
SyncBackPro, the most powerful backup and synchronization utility in its class. Version 7 now supports more Cloud services than ever.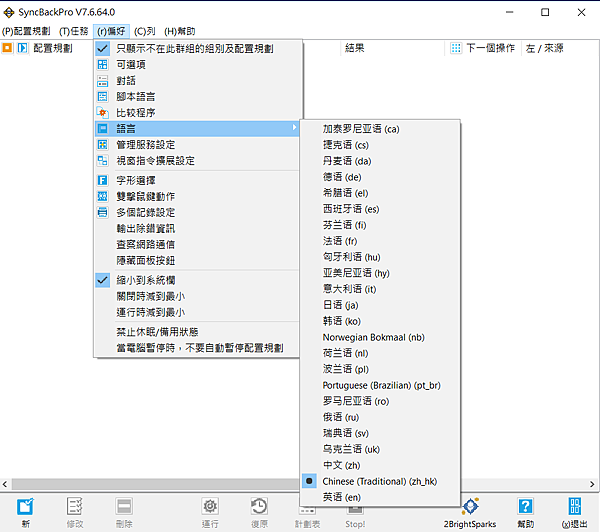 SyncBackPro 7.6.64.0 + Portable 多語言中文註冊版附註冊機-文件備份及同步程序
Transfer media files to and from portable devices automatically. Backup your pictures, music files and movies. With notifications about profile runs, creation etc. scripting functions, and automatic drive failure detection (S.M.A.R.T.), SyncBackPro delivers the complete backup solution.
SyncBackPro, together with SyncBack Touch provide an outstanding multi-platform (Windows, macOS and Android) backup solution.
SyncBackPro also connects to the SyncBack Management System (SBMS) which makes monitoring and managing remote backups a whole lot easier and more secure. Review the Full Features and Comparison List.
SyncBackPro
Windows 10, Win8, Win7, Vista & XP SP3, 2003 and newer (32/64-bit)
Copy Locked or Open Files
Supports Google Drive, OneDrive, Box, Dropbox, Amazon S3, Amazon Drive, Azure, Google Storage, Office 365 (OneDrive for Business and SharePoint) and SugarSync.
Fast Backup, Smart Synchronization and Incremental Backups
Backup Emails Stored on a POP3/IMAP4/Exchange Server
Versioning – Keep Previous Backup Versions
Scripting – Configure How SyncBackPro Runs
Powerful FTP/FTPS/SFTP Engine and Encryption
Automatic Drive Failure Detection (S.M.A.R.T.)
7.6.64.0 更新記錄:
Fixed (Pro): May fail to upload or download files to Dropbox when non-Latin characters in filename are used on a computer using Chinese (Traditional) system locale
Fixed (Pro): Touch profile could not be aborted if Touch server not available
Fixed (Pro): When using database internally to store directory information then may assume a directory does not exist when it does
Fixed (Pro): For some cloud services, if multi-threaded upload and download is used, it may fail to retry on failure
Fixed (Pro): Fast Backup of emails may not work correctly
Updated: Update check is now every 30 days instead of every 15 days
7.6.50.0 更新記錄:
New: Greek translations by Kostas Basileioy
Fixed: Help window was not automatically closed when new SyncBack window closed or opened
Fixed (Pro): Failed to download files over 10GB in size from Amazon Drive
Fixed (Pro): Cloud database had incorrectly defined table. Not applicable to S3 or Azure.
Fixed (Pro): Failed to upload files with a hash in the filename to OneDrive (if file is 100MB or larger), Office 365 and Amazon Cloud Drive
Fixed (Pro): Failed to upload files with an ampersand in the filename to SugarSync and Azure
Updated: Uses less resources when file icons shown in Differences window
7.6.44 更新記錄:
Our software has undergone extensive development and user testing since its inception. This page shows bug fixes and feature improvements that have been made since the official release dates.
Download & Update SyncBackPro| Download & Update SyncBackSE |Download & Update SyncBackFree
SyncBackPro V7.6.44.0, SyncBackSE V7.6.44.0, SyncBackFree V7.6.44.0 (8th November 2016)
Updated: Windows XP is no longer officially supported
Updated: When using screen reader the auto-collapse option in profile config window is not enabled
Updated: Warning text in profile config window now a tab stop to help with screen readers
Updated: New pop-up menu and shortcut keys to select source (Ctrl-F2) and destination (Ctrl-F3) versions from Differences window
Fixed: On Vista and newer, if profile was set to run on logout, shutdown or restart, and it was Windows shutdown aborted, then SyncBack did not close properly
Fixed: French help file may not display
Fixed: The attributes and dates are now from the target file when compressing symbolic link files
Fixed (Pro): In rare cases the download of large files from S3 and Azure may be corrupt
7.6.36.0 更新記錄:
New: -debugon and -debugoff command line parameters
Updated: If a directories attributes are set to be copied, and it is NTFS compressed, then destination folder will be NTFS compressed if created
Updated (SE/Pro): Improved stability with file transfers with SyncBack Touch on Android
Updated (SE/Pro): Default folder when using SyncBack Touch is now \sdcard\
Updated (SE/Pro): Provides progress to Touch on Android
Updated: The variables SYNCBACKFOLDER and SYNCBACKBACKUPFOLDER have different values if SyncBack run from an external drive
Updated: Uninstaller now gives option to keep profiles and settings
Fixed: In some cases the date and time of a file may be set incorrectly
Fixed: Detection of renames is now correctly disabled in some cases, e.g. when using compression
Fixed: Could wrongly delete shared settings that are being used
Fixed: Improved help integration so Ctrl-F now works when help file being displayed
Fixed (Pro): For some cloud services will fail to move file if target folder does not already exist
Fixed (Pro): Authorization issues for OneDrive for Business where SharePoint not part of subscription plan
軟件下載地址:
Download YunFile雲盤: http://yfdisk.com/fs/5top9molfdba55a2/
Download 城通網盤: https://sun0816.ctfile.com/fs/wiS186163326
Download 百度網盤: https://pan.baidu.com/s/1mhXOypE 密碼:63va
解壓密碼: www.unyoo.com
檔案下載自互聯網:https://www.unyoo.com/5982.html