ACDSee Photo Studio Ultimate 2018 v11.0 Build 1196
ACDSee Photo Studio Ultimate 2018 正式發佈了,ACDSee Ultimate 11的用戶界面做了很大改進,啟動速度更快,效率更高,該軟件的用戶界面提供了方便的各種工具和功能,您可以使用瀏覽,查看,編輯和管理您的照片和媒體文件。更兼容Win10和Win7。軟件包括七種模式:管理模式、照片模式、瀏覽模式、開發模式、編輯模式,365模式和儀表板模式。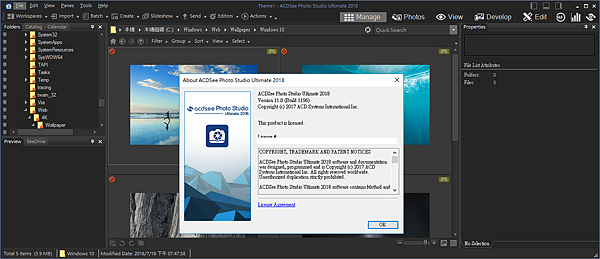 With GPU-accelerated adjustment layers, RAW editing, and an arsenal of professional digital asset management tools, ACDSee Photo Studio Ultimate 2018 is perfectly positioned as the only software you need to satisfy any part of your digital photography workflow. Now featuring even more ways to take control of your photo manipulation, flexible mobile importing, tools facilitating productivity, and much more, Photo Studio Ultimate makes it easy to get speedy, stunning results.
Make the most of your RAW images with Photo Studio Ultimate's built-in support for over 500 camera models. For ultimate freedom, start with the rough data captured by your camera's sensor and non-destructively transform it into whatever you want using exposure, contrast, color, repair, sharpening, and other detail-based tools.
You can use the Layered Editor to fearlessly innovate using parametric photo manipulation. Add layers designed to achieve individual adjustments and effects, and go back in to tweak them at any time. Pair individual layers with any Edit mode filter or adjustment for complete image manipulation liberty.
Finding, sorting, moving, organizing, and sharing—everything you need for complete mastery over your photography workflow is right here, at your fingertips. Add ratings, hierarchical keywords, categories, and location data to your images. Quickly identify photos for further processing with visual tags or customizable color labels.
Take what you want from your photos, and integrate the rest. Select unwanted objects for removal and use the Smart Erase function to fill in the area with a matching background. This content-aware tool will produce a natural result even while extracting elements like telephone poles, crowds of strangers, imperfections, ominous clouds—whatever you want. Even eliminate structures and surfaces to create fantastical manipulations and image composites.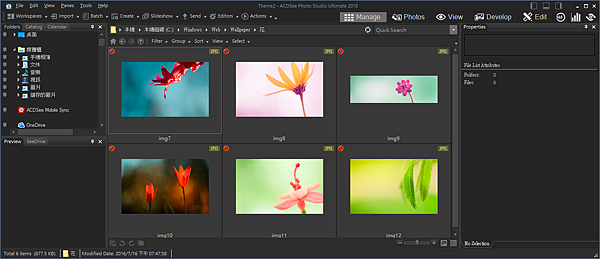 Creative image manipulation has never been so fluid. The Liquify tool allows you to distort objects in images without compromising quality. Shift, pinch, bulge, or restore. Develop free-flowing designs, or retouch portraits by moving pixels without altering them. *Available for 64-bit only.
With ACDSee Mobile Sync, you can wirelessly and instantly send photos and videos directly to ACDSee Photo Studio from your mobile device! Just select and send. Available on iPhone and Android, the ACDSee Mobile Sync app keeps track of which photos have been sent, so you don't have to. Zoom through your process with flexible selection options and configurable filenames and subfolders. Edit and transfer metadata while taking advantage of RAW support on iPhone.
ACDSee Photo Studio Ultimate 2018 Release Notes
ACDSee Ultimate 2018 is only available in 64-bit.
Added RAW support for the following camera models:
Canon EOS 6D Mark II
Canon EOS 200D (EOS Kiss X9, EOS Rebel SL2)
Canon EOS M2
Nikon COOLPIX B700
Nikon D7500
Nikon D810A
Olympus Tough TG-5
Sony ILCE-9
Sony ILCE-3500
Samsung NX3300
Panasonic DC-ZS70 (TZ-90)
Fujifilm X-A3
ACD Systems is committed to releasing regular updates to support RAW files from new camera models, as they become available. View the complete list of supported RAW formats.
New Features
Smart Erase: select unwanted objects for removal and use the Smart Erase function to fill in the area with a matching background.
Liquify tool: allows you to distort objects in images without compromising quality.
ACDSee Mobile Sync: wirelessly and instantly send photos and videos directly to ACDSee Photo Studio from your mobile device.
ACDSee Actions Browser: manage recordings, and batch apply any of 125+ pre-loaded recordings to multiple images at once.
Lens Correction now available in Edit Mode.
Keyboard Shortcuts: optimize your workflow with predefined and customizable hot keys.
Frequency Separation: smooth out flaws without losing texture.
Pixel Targeting: select and mask by targeting specific brightness ranges and colors within the image.
Grain tool: give your images an old, film grain look.
Polygon Selection tool: select around edges and irregular shapes.
New Adjustment Layer – Split Tone: non-destructively tint shadows and highlights respectively.
Chromatic Aberration in Edit Mode: heal colored fringes on the borders of high contrast areas.
WIA 2.0 Scanner Support. (64-bit support only)
Performance Improvements
Improved speed and performance in Develop Mode and Layered Editor.
Develop Mode Brushing is now 400% faster.
The Brush tool, Eraser tool, and Selection brush tool (excluding Magic Modes) all use multithreading for improved performance.
Faster undoing and redoing.
Improvements
Improved Import: avoid uploading the same photos repeatedly with an import tool that remembers your previously imported photos.
Digital Asset Management improvement: Keywords and Categories on their own respective panes allows for proper space to manage growing hierarchies.
Upload to Facebook in the background.
ACDSee Photo Studio now comes pre-loaded with over 100 new borders and textures.
New History Window as a pane.
New Clone tool pressure slider.
View Mode Slide Show can now play videos.
You can now browse your iPhone or Android phone in ACDSee Photo Studio.
Fixed an issue with uploading to Flickr.
And other bug fixes.
Known Issues
Drag and drop from a mobile device to Windows Explorer does not work, but dragging and dropping from the mobile device within ACDSee is supported.
In some cases, on Windows 7 and 8, when a camera is connected to a computer via USB cable, the Import tool may fail to display media files and will not copy them. In these cases, we recommend copying items from these devices to your computer with Windows Explorer, or import the media through a card reader.
ACDSee uses the base layer's color profile for any additional layers.
.acdc format is not supported in Develop mode.
In the ACDSee Layered Editor, when using the Move tool, you cannot add masks.
Text/Watermark shows incorrect preview in a certain scenario.
Color images turn to black and white when added as layers on a grayscale image.
It is recommended that you restart ACDSee after importing a Lightroom database.
Supported
ACDSee Actions created in Pro 10 and Ultimate 10 are supported in ACDSee Professional 2018 and Ultimate 2018.
ACDSee Actions created in Professional 2018 and Ultimate 2018 are backwards compatible with Pro 10 and Ultimate 10.
Not Supported
ACDSee does not preserve layers when editing PSD and TIFF files.
軟件下載地址:
Download 皮皮網盤:https://www.pipipan.com/fs/3477565-217813639
Download 城通網盤:https://sun0816.ctfile.com/fs/3477565-217813639
【簡單說明】本版漢化補丁由於部分加密,一定會引起殺軟誤報!!!
會被誤報的所有文件列舉如下:
ACDSee 攝影工作室漢化補丁.exe -> 漢化主程序;
C3目錄下的 acdIDInTouch2.exe -> 原版和諧文件;
C3目錄下的 ACDSeeProfessional2018.exe -> 原版和諧文件;
ACD022032.exe -> 漢化執行程序;
ACD03.exe -> 漢化執行程序。
如果您對誤報十分介意,請使用其他漢化作者的其他版本漢化補丁;如果您有系統潔癖,建議您給電腦安裝10+以上殺軟再使用本漢化補丁!
漢化作者對補丁使用過程引起的不可預知情況不負任何責任!
【溫馨提示】
本補丁需要 .net framework 4.5 才能奔跑,不要問為什麼這麼噁心,因為缺少了這個你的 ACDSee 功能也會不完整,所以沒有的請自行腦補。win 8/10用戶請自行忽略本條;
安裝漢化補丁前建議關閉殺軟或將漢化補丁目錄加入殺軟白名單,謝謝;
漢化補丁安裝完成後會自動退出,因此在安裝補丁時請確保漢化補丁退出後再查看漢化效果,否則視為漢化不完全,因此造成的後果請自行承擔。
軟件下載地址:
Download 皮皮網盤:X86: https://www.pipipan.com/fs/3477565-217813243
Download 皮皮網盤:X64: https://www.pipipan.com/fs/3477565-217813448
Download 城通網盤:X86: https://sun0816.ctfile.com/fs/3477565-217813243
Download 城通網盤:X64: https://sun0816.ctfile.com/fs/3477565-217813448
Download 皮皮網盤:漢化補丁: https://www.pipipan.com/fs/3477565-219305619
Download 城通網盤:漢化補丁: https://sun0816.ctfile.com/fs/3477565-219305619
解壓密碼:www.unyoo.com
檔案引用下載自互聯網:https://www.unyoo.com/11127.html
鏈接: https://pan.baidu.com/s/1qYFOnLi 密碼: amvt
download

http://uploaded.net/file/267onloj
http://turbobit.net/pa3mgz8425z2.html
https://rapidgator.net/file/f6b305d268eccd1ec1d7bf6a91721bc8
https://nitroflare.com/view/6827898A44816AA
http://mexashare.com/fpeq7vjtz41d
https://userscloud.com/m4vyx47lvvkf
http://sharehost.eu/file/VtWg1StwRGLeJGgGJXDGfg==
檔案引用下載自互聯網:http://www.cracking.se/acdsee-photo-studio-ultimate-2018-v11.0-build-1196-x64/